People tend to think, being an artist,
that's talking gracefully, singing divinely,
drawing gorgeously or composing sublimely.


But few people know, being an artist,
means embracing life,
while craving for death.


That's why being an artist
is worthy of eternity.


Max Szoc (1937-1983)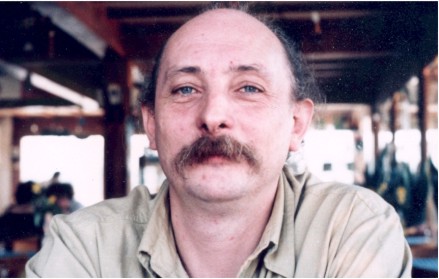 Max Szoc

Surrealist painter, theatre director and scenograph, poet, author of many happenings. Famous in polish culture world but almost unknown as painter until he moves to Belgium, where his paintings and drawings got a deserved appreciation.
---
Zenon J.
:
I knew Max well personally during the period of time he lived and worked in Szczecin(Poland)(in the course 1960s), we were friends. It wasn't perhaps the happiest period in his private life but very intense artistically and personally. At certain moment we intended to collaborate on a theatrical project (pantomime), unfortunately, the political climat in the country forced me to emigration in 1969, so we never met again, which I regret very much.
Guest
:
Very nice website. Found my way here from Jeff Bedrick's. Great art. I am envious of people with real talent.
Stephen S.
:
Hello, Just came across your website. As you can see my last name is Szoc as well. My granparents were both from Poland however I unfortunately know next to nothing about them. My father Zigmond was born in 1925
Norryn
:
Scary!!!! fabulous work!!!!
John
:
Hi Max The painintg of the seagull and the Torrey Canyon impressed me greatly. I like the seagull's pristime condition, while the wreck of the Torrey Canyon lurks menacingly on the horizon. It is very evocative of nature verses the dark side of man. Thanks John
Jef S.
:
A great site where one can enjoy the thought of a great mind long departed. Cheers for the good work!
Gilbert B.
:
refreshing, provoking
Brent
:
where can i purchase prints of Max Szoc's works? also, what is the correct way to pronounce Szoc?
Vicki
:
Love the paintings First Sin and Birthday, real risks taken! bravo
Christopher McA.
:
I think the quote on your website is amazing, makes me proud to be a person who wants to embrace life, and find out who I am good luck with life
Spook
:
pleasw tell me where i might purchase some either in books, posters prints
Andy
:
very inspiring artwork. Im studying art, and hope to become a painter. I hope my work in the future will have its own aura, just as yours does :)
Hebe A.
:
REALLY I LIKE YOUR WORKS , DESIGN, WONDERFULL,
Cindy L.
:
Greetings from California. Fabulous paintings I especially enjoy your cloudy moon lit skies... Warm Regards, Cindy Lee
Jose I.
:
hi max! hooooray philippines!!!!!!!!! i like ur painting dude. specially schizophrenia and icarus! keep da good wrk dudes......
Carlota de P.
:
hi i'm from davao philippines. i'm also a painter. your works are beautiful. thank you for sharing them in the internet, they are very inspiring. carlota
Mauricio T.
:
Max: I love your art that green subtype back in your works is special, I am a surreal artist as well, I also love the phrase you wrote about why the artists deseve eternal life,your way to present the images us unique, I hope to see one of your exhibitions and meet you in person, by now I just wish you continue developingh your being thought your paintings, The best for you.
Dusty
:
Hi, I am impressed by your paintings. It was very nice to visit your website. Good luck to you and greatings, Dusty
Kee
:
I have never hered of you in my life BUT i entered yoer site through a search for wied, surreal pictures.But i ended up looking at every single picture on this site and i was very pleased. Some of these images and pictures will stay in my hmind for a long time. thanks.
Somebody
:
this was the best site i have ever seen! i am going to recommend it to a friend who loves paintings. thank you for allowing me to visit.
April T.
:
i just wanted to tell you that your art is very vibrant and moving. i ran across it in a google search and your work really drew me in. as an artist myself i am trying to make a point of letting people know that thier work has touched me because i think it is so important for people to know. keep up the good work. :)
Lis
:
Hello, my name is Lis, and I'm only 14 years old, but I can say dat I really love your paints! They are incredable, beautiful!! Don't stop painting! Your work is fantastic! Lots of greets from Belgium...
Ton H.
:
Dear Max, I am asurrealistic painter and a musician from Holland and I really love your work!
Paul NG.
:
Hello, I stumbled across your website, and I must say I am quite impressed by your surrealist work. I am an artist as well, and I was wondering if you add my website to your page of links. You have accumulated a number of inspirational artists, and it would be an honor to reside among such talent. Thanks, Paul
Alan
:
Dear Max.. I find your art work beautiful and expressive... i wish you all the best. Alan Faith
Andrew C S.
:
I enjoyed your outstanding artwork. I am a artist to based in Nottingham UK, It's good to see high quality art.
Natasha
:
Yuo are SUPPER! I like yuor paintings.I am from Odessa!
Hamid
:
Dear Max, looking here is like flighing away to a horizont without end. Respect to all those great artists. I know there is a lot of work doing this kind of art. Greetings from Germany/Afghanistan HAMID
Bob
:
Max, Your just out there dancin in the ozone with imagination and style. Paint on. Bob
Dekion
:
Good god, you're a genius, unbelievable stuff, reminds me of Geiger, Dali, and Magritte, truly awesome. EXCELLENT!
Geir J.
:
Dear Sir, Rare have I seen paintings that have captured both my heart and soul the way these paintings have. And; "If there were dreams to sell, what would you buy?" They would all be in my dreams. Sincerely, Geir
Marion L.
:
dear max, i am enhusiastic! very great artwork! greetings from marion
Denise
:
YOUR ARTWORK IS BOTH BEAUTIFUL AND WONDERFUL! I HAVE ENJOYED SEEING YOUR PORTFOLIO VERY, VERY MUCH WITH RESPECT, AND THE HIGHEST ADMIRATION...DENISE FROM CALIFORNIA. MY BEST TO BOTH YOU AND YOUR WIFE. SINCERELY, DENISE
D.S.
:
Mr. Szoc, You are an excellent artist, your work is beautiful! So nice to see someone with the same last name too!
Istvan CG.
:
Hello Max Szoc, your paintings are very excellent. Congratulations. I love these works.
Brian
:
I'am in Complete amazement. thats all i can say.
Alegra T.
:
Mr. Szoc, i would like to say that i think your work is absolutely captivating. I am an upcoming artist and although i didnt want to fall into surrealism, its where my mind takes me. I have been trying to look at new artwork to inspire me and i think i have found an artist that pleases me both mentally and physically. Although perversed and erotic at the same time, i am intrigued by the visual aspects of your mind. So i would like to say thank you and if i could, get a personal message from you Mr. Szoc that would be much ablidged.
John
:
Hello, I just discovered your site. It's very good. Also, your poetic idea of what an artist is touched me, athough I do not agree with the statement, it really is a wonderful piece of writing.
Lena
:
Everything is great....just great. There was no soul in the most of the drawings I have saw...But in yours.... After I saw your paintings it seems I know you as if you were the person who has been living near to me all of my life...It seems I could saw your soul...
Andrea
:
I've seen your paintings online and I think they're wonderful. I especially like your 'Incognito' piece.
Bruno D.
:
I really like these paintings. One of my favorites is 'LA PUDEUR' - The empty woman - It's intriguing like all of Max's work. Best regards, Bruno
Kim SH.
:
I'm from South Korea, science teacher and artist. While I surfed Internet site here and there, I found this wonderful site. Your works are unique and charming. Thank you!
---